™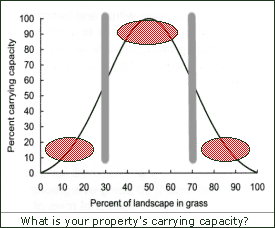 Most properties have many "limiting factors" when it comes to attracting and holding wildlife to the property. Fact is…if there isn't wildlife on your property by now, then wildlife will not just start using your property…unless variables are added to attract and hold them. For example, if there are only a few pheasants on your property now, then releasing more birds will not be effective. Pheasants are very prolific breeders and will populate an area very quickly if the conditions are right. Since there are only a few birds now, that means there are "limiting factors" keeping your "wild" pheasant population from increasing. Same goes for deer, turkeys, quail and waterfowl.
Most properties also have only one or two "hot spots" where most of the wildlife hang out. These hot spots are where everyone wants to have their deer stand or where you always flush that covey of pheasants, or…it is the one pond that all the ducks always seem to go to but there are no ducks on the other ponds.
Let's identify the limiting factors and fix the problem. Our objective is to develop the "infrastructure" to attract and hold more wildlife while also creating "hot spots" all over the property. Not only will you see a lot more wildlife on your property, but you will also have a continuous walk of habitat changing from trees to native grasses with food edges…and never have to walk in the same habitat twice!
Shrubs & Conifers - Order PLM Trees early for best stock!
Winter Core Area - Wildlife trees and shrubs for winter habitat should consist of two components. First a primary shrub row that acts as a living snow fence knocking down drifting snow to reduce wildlife mortality from suffocation and extensive energy outputs digging for food sources. Second, thermal protection should be designed with conifers to reduce wildlife mortality from wind-chill. Plan and design winter habitats with existing cover if possible but always build new areas as well…and always protect the food source. No tall trees should be used as they will provide perches for predators such as owls and hawks which will be extremely detrimental to your upland gamebird populations.

Travel Lanes, Funnels and Corridors - Tree plantings are fantastic travel lanes and greatly increase the carrying capacity of the property by allowing wildlife safe corridors from one habitat area to another. This also provides you with extensive travel lanes and a continuous walk around the property for a better experience in the field.
A successful shelterbelt planting depends on establishment and care during the first few years development. Time spent on site preparation, weed control and replacement trees is repaid many times the lifetime of the shelterbelt. Take no shortcuts the planning and establishment of your ". Each project is unique and should be designed for your site objectives.

PLM has developed and promoted the establishment of permanent wildlife shelterbelts to protect over wintering wildlife and their food sources. Pheasant populations can experience winter mortalities of 70% to 90% through very harsh winters. Establishment of a shelterbelt system or use of cover to protect wildlife and food sources can reduce winter mortality dramatically. These winter survivors will result in more potential spring breeders! If you want to see more wildlife on your property, having adequate winter cover to reduce drifting snow, reduce wind-chill and to protect food sources is critical. Your property will never achieve its highest wildlife carrying capacity if well designed and well-implemented woody cover plantings are not included in your overall property plan.

Trees and tree planting services are available to accommodate both the landowner that needs a source of high quality seedlings and/or needs assistance with planting the trees as well.
Large and small orders accepted.
PLM has one of the best tree planting programs around! The right equipment teamed up with very dedicated staff with many years of experience results in high quality projects. PLM did not take any short cuts in having the best equipment available to make sure that site preparation and the tree planting are done well. Through years of experience we understand that not all site conditions are perfect. PLM's top of the line equipment greatly reduces issues and concerns with difficult seedbeds and assures success of your project.
Roto-tilling strips is a great way to provide a preferred seedbed for better root to soil contact and increase success in the tree planting. In this photo, strips are roto-tilled to allow installation of tree fabric following the planting. Very clean and very professional!

Tree Fabric - Yes, it is expensive but it will repay itself over and over. We have calculated that the cost to install fabric right up front is comparable to the cost of 3 years of mowing or cultivating the trees. In addition, the investment in the fabric will provide 3 to 5 times the tree growth due to conserved moisture, funneling of moisture to the tree, reduction of weed competition and just an all around nicer, cleaner and more professional looking tree project…it is worth the investment!